Designing Your Home – Without an Interior Designer! How do you begin to design your home when you aren't a trained Interior Designer?
This is a question I get asked on a regular basis and I feel it's one question that I can give some helpful guidelines on but the overall design process is actually down to how much time and effort the person asking the questions wants to put into it.
For me, as a fully qualified Interior Designer, the design process can be a complicated, time consuming affair, but the basic principles can be applied to any room in your house in a simplified state.
Today, I am going to let you in on some of the tools I use to design a room, so you too can feel empowered to design your own home.  So Designing Your Home – Without an Interior Designer! ?  Here are seven easy steps –
Step One:
Assess Your Space
Is it a new room that is completely empty that you want to design, or is it a room you want to revamp with new furniture and accessories? Before you visit a furniture store, or buy anything for the room you should spend time in the room, evaluating the space and what you will be using the room for. Ask yourself some questions about the room –Who is going to use this room? What is the room going to be used for? Does the current lighting work? Does it create shadows in areas that you need direct light, or is it too bright if you want more intimate lighting? Is there ample seating in the room? Does the colour make the walls 'come in' on you or appear too cold? Do I hate/love anything about the room? What feeling are you hoping to have when you walk in to this room, and what look are you trying to achieve?
Only when you have answered these questions can you move on to Step Two.
Step Two:
Inspiration
When you are happy you know what you want from your room, it is now time to look for inspiration – check out Pinterest, Houzz, Instagram, Magazines etc and pin posts to a scrap book so you can go back and forth between them all, all the while coming up with a look and style you like. Check out different fabrics, wallpapers, paint colours and floor coverings in magazines and see which ones appeal the most to you, which ones catch your eye first. When you have plenty of images, spend some time analysing them and see to you see a common thread coming through – do you have a certain style in mind for the room and is it evident in the imagery you have pinned? As you go through this process remove any images that no longer speak to you and when you happy with the remaining images that hold the strong elements of style that you are looking for save them and move to step three.
Step Three:
Decide on a Colour Palette for the Room
It can be difficult to begin a room design with actually coming up with a colour palette first as this will influence a lot of your decisions. To determine a colour palette refer back to your images that you have saved – What colours speak to you in this images? How do they make you feel? When you are happy with a couple of colours or shades, get some samples and bring them in to the room to see how the light in the room affects them – make sure to use fabrics and paint colours as they will absorb the light differently. Choosing the colour palette is the shortest step, but probably the most important, so don't rush it. See how the different lights throughout the day change the colours. See how the flooring changes. Walk in and out of the room taking in the colour over and over. When you are happy with the palette it is then time for Step four.
Step Four:
Sourcing Items
So you have a design plan, now what? With a Budget in mind, you now need to source everything you need for your room. Make a list of items you think the room might need – new flooring, new curtains, sofa, bed, rug, lights etc. Look at online retailers as well as in stores. Google products. Compare and contrast items and try and get the best value. If you are worried about sizes, mark them out on the floor with coloured tape. When you have a list of items you want and you feel will work, try to pull together images of the items so you can use them in Step five.
Step Five:
Make a Concept/Mood Board
Designing Your Home – Without an Interior Designer! ?  Then this is a must have designers trick, and it really helps with your room design. It will allow you visualise your room at no cost and you can spot any mistakes that may arise before you make them. It is probably the single most important thing you can do for yourself. My advice is to NOT SKIP this step. This will save you a lot of money and time. Start by taking an image from your pinned images of the style you most want your room to look like, then add the paint colour you want to use, add the furniture you plan on purchasing and the accessories. How does it look? Do you like it? Is it a room you could see yourself in? Is there the right amount of furniture, lights? Does the furniture look in proportion? Does the fabric work with the paint colour or wallpaper? If you are happy with how it looks on paper/computer screen, then the chances are you will like it in reality. Time for Step Six.
Step Six:
Purchasing
It is time to order and purchase everything on your concept board. Make sure your quantities are correct for paint and fabrics. Negotiate discounts on larger items. Make sure you have tradespeople accounted for in your budget as there is no point having everything and no one to do the work. Check with vendors that all your deliveries are timed correctly, so that you can have the room set out on time.
Step Seven:
Implementation
This is my favourite step and I am sure it will yours too – when you all your planning and hard work pay off. Depending on what you are having done in the room, the painting undercoat is usually the first to be done. I give the painter a paint specification sheet, but you won't be expected to do this. The flooring is then laid and the curtains hung. The electrical lighting fixed to the ceiling, the furniture placed and then the magic of the styling of the room begins. This styling is really what brings a room together and never overlook it. This is like an Interior Designers magic wand and without it, a room never looks finished.
Designing Your Home – Without an Interior Designer! can be so rewarding. When it works out just as you visualised it, it is pure magic. I still get that buzz when a client's home turns out exactly as I designed it from the very beginning. To see a client smile when they see the room you have created is a real joy. But to know you did that yourself is extra special, so don't be afraid to give it a try. And the most important rule to remember is – Have fun!!!
And if all else fails – you can always hire me!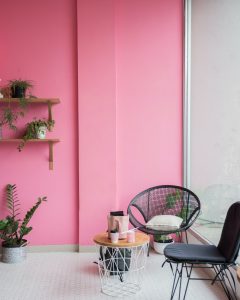 www.houzz.ie/pro/brenda-sorensen/aspect-interiors
www.instagram.com/aspect_interiordesigns/